Smile Power Week June 12-16, 2023
Smile Power Week was created to promote healthy smiles across Tennessee during National Smile Month, but many Tennesseans aren't smiling. According to research by the American Dental Association, 45% of low-income adults say they avoid smiling, and 68% of them sometimes find life, in general, less satisfying due to the condition of their mouths and teeth.
To help draw attention to this situation, community partners all over the state are coming together for a week in June to help Tennesseans get back their healthy smiles. Governor Bill Lee, in conjunction with the Tennessee Charitable Care Network, has proclaimed June 12-16, 2023, the 8th annual "Smile Power" Oral Health Week.
Smile Power Week educates Tennesseans about the importance of oral health, and it's an opportunity to showcase the important work being done in communities across the state by free and charitable clinics. The clinics provide help and education about good oral health habits, which leads to less pain, healthier smiles and improved lives for many Tennesseans.
In 2021, Tennessee Charitable Care Network's charitable and reduced-cost dental clinics provided 102,340 procedures including 24,010 oral surgeries and 21,799 hygienic cleanings/preventive services, serving more than 24,982 Tennesseans. These clinics are doing an amazing job caring for those most in need. They are creating and restoring smiles, and with that, restoring health, self-confidence and dignity to these patients. We know that the power of smiling can change lives, and Delta Dental of Tennessee is proud to partner with dental clinics to help their communities smile.
Delta Dental of Tennessee's Smile180 Foundation supports dental clinics that serve the non- or underinsured across the state, delivering patients much needed oral care and new smiles that enhance their quality of life. It also supports children's hospitals across the state and oral health education, including support of Tennessee's two dental schools: Meharry Medical College School of Dentistry and the University of Tennessee Health Science Center's College of Dentistry.
Samantha is a mom of three who benefitted from Tennessee's Safety Net Denture Program and was a patient at Interfaith Dental Clinic. See her story here.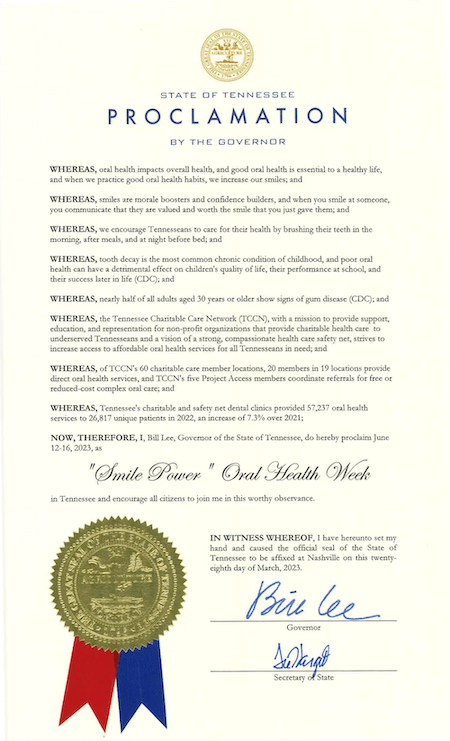 Smile-filled Activities for Kids and Parents