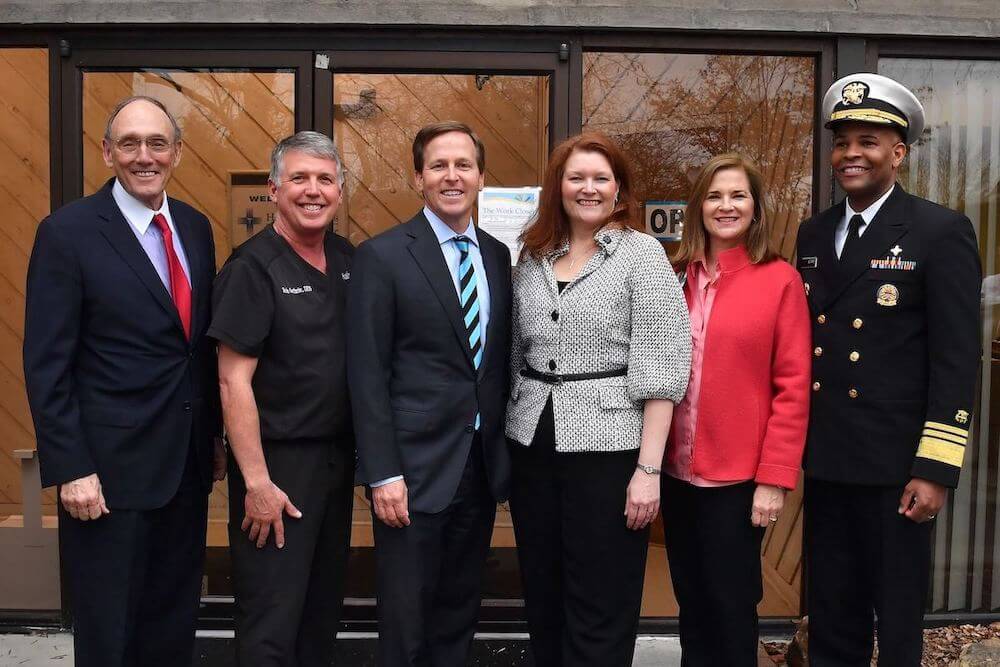 Healing Hands Health Center, Delta Dental Welcome U.S. Surgeon General for Visit
Dental clinic visit with Rep. Roe highlights Surgeon General's motto of "better health through better partnerships"
BRISTOL, Tenn. – (February 6, 2020) – When the U.S. Surgeon General visited East Tennessee last week, he was able to get a first-hand look at the region's health care safety net thanks in part to the partnership of two Tennessee organizations.
U.S. Surgeon General VADM Jerome M. Adams, M.D., M.P.H. visited Healing Hands Health Center (Healing Hands) in Bristol, Tenn. on Thursday, January 30. Along with U.S. Representative Phil Roe, M.D., Dr. Adams spent more than an hour touring the charitably run health clinic and talking with community leaders about his priorities, one of which is oral health.
"I was proud to introduce Surgeon General Adams to some of East Tennessee's most important health care providers," said Representative Roe. "Access to quality dental care is critical to one's overall health, which is why the work of Healing Hands is essential to improving the health of our community. With the support of partners like Delta Dental, Healing Hands will continue expanding dental access to many underserved rural communities."
Healing Hands provides more than 4,000 dental patient visits each year. In 2015, with the support of a grant from Delta Dental of Tennessee's Smile180 Foundation, Healing Hands doubled its clinic size and added eight new dental exam rooms. The expansion also allowed Healing Hands to form an externship program with the University of Tennessee School of Dentistry, through which four dental students work full-time at the clinic on two-week rotations.
"It was such an honor to have been chosen as the charitable medical and dental clinic for the U.S. Surgeon General to visit," said Helen Scott, executive director of Healing Hands. "We felt as if we were representing all charitable clinics across the state and nation as he toured our facility and discussed issues clinics face and struggles of being low income and uninsured. We are very grateful for the time he spent with us and how personable he was with everyone in our clinic."
The Surgeon General, along with the NIH National Institute of Dental and Craniofacial Research, is preparing to release a new Surgeon General's report on oral health. The anticipated report will provide updates to the groundbreaking 2000 publication, Oral Health in America: The Surgeon General's Report, which called public attention to the "silent epidemic" of oral health disparities in America and highlighted the impact of oral health to general health and wellbeing.
"It's great to see our country's top doctor make oral health a priority for his office. He's demonstrating that this interest is more than just talk as he is getting out into communities and learning about the needs of the patients and those serving them first-hand," said Missy Acosta, vice president of brand strategy for Delta Dental. "It was a privilege to discuss the importance of oral health to one's overall health with Dr. Adams, and we are looking forward to his report later this year."
While at the clinic, Dr. Adams and Representative Roe joined youth volunteers to pack dental hygiene kits that will be distributed in the community. At the invitation of Representative Roe, Dr. Adams spent the day in Northeast Tennessee, where he also participated in a roundtable discussion on the opioid crisis at East Tennessee State University and toured Niswonger Children's Hospital.



###

About Healing Hands Health Center
Healing Hands Health Center, located at 245 Midway Medical Park, Bristol, Tennessee, provides services for our working, uninsured neighbors for a small fee: medical care and much needed medications; dental care including exams, x-rays, cleanings, extractions and fillings; chiropractic care; eye exams and eyeglasses; psychological and spiritual counseling services.
About Delta Dental of Tennessee
Delta Dental of Tennessee is the state's largest independent dental benefits carrier with more than 1.2 million lives covered. As part of the Delta Dental Plans Association, Delta Dental of Tennessee members have access to the largest dental network in the nation with more than 154,000 providers serving more than 332,000 locations. With the simple mission of ensuring healthy smiles, Delta Dental of Tennessee works hard to help members of the communities it serves. Along with its corporate foundation, Smile180, Delta Dental of Tennessee donated $5.2 million to over 120 organizations in 2018, and employees shared 2,378 volunteer hours in the community.